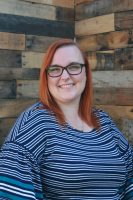 Q: How long have you been married to your spouse? Do you have any kids? Grandkids? Fur babies?
A: Lloyd and I will celebrate 16 years in February 2019. We have 4 kids- Olivia (12 years old), Paisley (8 years old), Sawyer (4 years old), and Tessa (2 years old). We have one hound dog- Teddy; two cats- Dixie and Gina; and a ever changing number of barn cats.
Q: How long have you been at SFCC?
A: We've been with SFCC from the get go, 3 years as of May 2018.
Q: How long have you been a believer?
A: I have been a believer since I was a young girl. I believe I was about 6 years old when I accepted Christ into my heart.
Q: What is one passage of scripture that God has used in your life? Or perhaps a favorite verse?
A: A favorite passage of mine is Psalm 25:4-5- "Show me your ways, LORD, teach me your paths. Guide me in your truth and teach me, for you are God my Savior, and my hope is in you all day long."
Q: If you could spend an entire day doing one thing, what would it be?
A: I would love to spend a day curled up with a good book. If that day also happened to be cool, rainy, and spent beside a warm fire with a hot cup of tea, that would be fabulous.
Q: If you could tell your 17 year old self one thing in four words, what would it be?
A: Inhale confidence, exhale doubt.